Guest Book
Leave a comments
(5)
(5) Denis Rivard


Mon, 30 March 2015
---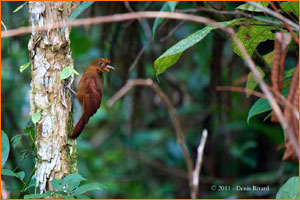 We booked our bird watching tour in Belize directly through Paradise Expeditions - Birding in Belize, a local company owned by members of the Tut family. We booked through Internet and corresponded a number of times with Jeronie through email and telephone who kindly answered our questions about the itinerary. Eric, our bird watching guide, was very generous of his time, with a schedule optimized to see a wide variety of birds while visiting some Maya archeological sites, natural parks and reserves. The six-day tour brought us to the Lamanai Archeological Site, the Crooked Tree Wildlife Sanctuary, the El Pilar Archeological Site, the Mountain Pine Ridge Reserve, the Blue Hole National Park and the Cocks comb Jaguar reserve.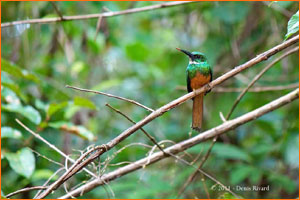 We saw 216 species of birds during our trip (end of November, early December 2011), many of them being close enough to photograph. Bird watching started from the time we left the airport (there was still 45 minutes before sunset) and stopped when we returned to the airport at the end of the trip (we saw two new species on the way to the airport). We essentially went bird watching everyday from sunrise to sunset, often doing a morning walk around the accommodation site prior to having breakfast. All accommodations were locally owned, contributing to a warm atmosphere throughout our stay. I would recommend Paradise Expeditions – Birding in Belize for someone who wants to do some serious bird watching in Belize. The members of the Tut family are knowledgeable about wildlife and outdoor activities in Belize and the visitors we spoke to seem to have appreciated their outdoor experience.
Denis Rivard
Canada
(4) Betsy Garrett


Fri, 15 February 2013
---
The 5 day birding and snorkeling visit with Paradise Expeditions was most successful in lots of ways. We started birding right off the plane as we left the airport and did not stop until we left Eric in Belize City to catch a water taxi to Caye Caulker for the last 2 nights. Eric was an expert birding guide and took great pride in his work. We also learned about the country of Belize, the natural resources, the road system, relations with neighboring countries and more. His family and he run the accommodations, prepare the food and serve in an open porch with exotic birds feeding at the railings. So peaceful and well tended grounds. The trip was planned to give us the most for the short time we were there. A great experience for me traveling with my cousin and I certainly would recommend the experience.
Betsy Garrett
February 10 - 15, 2013
(3) David Lichter


Mon, 4 February 2013
---
Booked Package 6 with a few changes. The company was very agreeable to changing the program to fit our needs. We are both bird watchers and we were very keen on birding the area. Met at the airport by Fernando and from that point on everything was excellent. First two nights at the coast then onto Crystal Paradise which is a family owned and run lodge, built by the parents and children and now the main base for their company Paradise Expeditions. Hotel has one central dining room where there is a set meal for dinner. You can sit by yourself or share communal tables. Rooms are concrete block construction with thatched roofs. No air conditioning, but it is not needed here and that way you awaken to the calls of the birds. Every evening they circulate seeing what trips you might want to go out on the next day. Some of the trips were included in our package and others were extra. Bar runs on the honour system, with you marking down what you used and then settling up at the end. The birding in the area and on the whole trip was superb. We cannot say enough good things about Fernando. He is a self taught birder who has some of the best eyesight we have ever seen and once he spotted a bird he made every effort to be sure that we got a good view of it. Usually through his spotting scope.
If you did not want to book a tour but just stay at the lodge, they offer a whole variety of day or overnight trips (for a cost of course). I would not recommend driving in Belize by yourself. Rentals are expensive and once off the paved highway things get very rough. They will arrange a pick up at the airport and a return. You can sit and bird watch the Toucans, Parrots and Lineated woodpeckers from their deck, while drinking a cold beer. What else can Paradise offer.
David Lichter
Jan 18th to Feb 4th 2013
(2) Donald & Karren Jensen


Sat, 29 March 2014
---
Greetings Jeronie,
Thank you again for the lovely time we just had in Belize. We enjoyed each part of our ten day stay so it is hard to emphasize any aspect over another though the two boat rides in the Crooked Tree area were special (not done five years ago). It was a great introduction to Belize for Karren.
The Cay Caulker lodging at Island Magic was very nice (the air conditioning, kitchenette and pool were great pluses). The birding and snorkeling activities were also good. Lots of fish and bird pictures. Habenaro's restaurant was a great place for dinner to celebrate my birthday. The small open ferry to Belize City was fun. Fortunately it was not raining or we would have been soaked.
The numerous people the tour were easy to get along very well with. Especially enjoyed the company of George and Joann Perry from Halifax, Nova Scotia who were also at Cay Caulker with us.
We appreciate all that you, Eric and Andy did to find those interesting Belizean birds. Over a dozen were new for me with many more able to be seen or photographed better.
Back home now with 4 inches of heavy snow that had to be shoveled out of the drive. Back to work tomorrow but with great memories and pictures to prove we were there and share with friends!
Best wishes to you all.
Donald & Karren Jensen
(1) Helen Chen and Keith Ohmart


Wed, 20 February 2013
---
Thank you Birding in Belize with Paradise Expeditions for an outstanding introduction to the delights of Belize. My wife, who claims not to be a birder, and I were looking for a vacation destination that would combine top quality birding to satisfy my interests with an opportunity to explore Maya archeological sites. Your ten day package exceeded our expectations on both counts producing a list of 182 species of birds sighted along with the opportunity to thoroughly explore four different significant Maya ruin sites. This, combined with the relaxed and welcoming family atmosphere of Crystal Paradise Resort itself made for a most enjoyable holiday. Your guiding was top notch, whether the subject was birds, the exotic flora with which we were surrounded on a daily basis, or the Maya ruins themselves. It was a delight to wake up each morning and stroll the grounds with its wide range of habitat, which was a birding delight itself, before heading off to our day's adventure. We look forward to returning in a future year to continue our exploration of Belize and all it has to offer.
Helen Chen and Keith Ohmart
Feb 11th to 20th 2013