Birding in Belize
Birding in Belize with Paradise Expeditions
Belize is truly a birder's paradise. Belize is a small English speaking country with a diversity of habitats, making it home to over 574 species of birds. Unusual birds such as the Jabiru Stork (the largest bird in the Western Hemisphere) and rare birds such as the Ornate Hawk Eagles and Harpy Eagle make Belize their home. Birding throughout Belize is an experience for any level of birder, from novice to expert.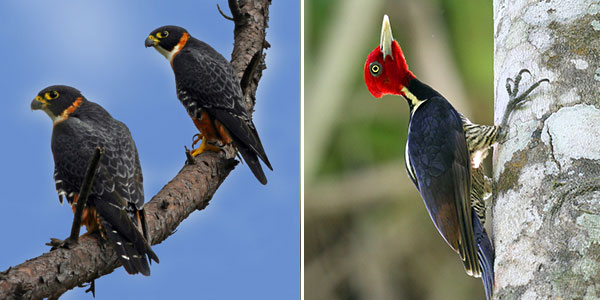 Belize has savannahs, rainforests, riparian habitats, broadleaf forests, pine forests, ocean coast lines, and many other features that provide diverse habitats. Because Belize is a small country, guests can experience many of these different areas in a short time and the diverse species each habitat is home to.

Another beauty of the sport of Belize birding tours is that it can be combined with other activities such as canoeing, horseback riding, hiking through jungle trails, climbing Belize Mayan ruins temples or simply sitting on a deck at one of our Belize Jungle lodges. Both casual and serious birders will appreciate Birding in Belize with one of our excellent local Belizean bird guides. Our Belize bird guides will help you add several endangered or rare Belize bird species to your life lists.