Trip Advice
Facts About Belize
All you need to know about Travel to Belize and planning your Birding in Belize vacation with
English is the official language
We drive on the right side of the road.
Our electricity is 110 volts, same as the U.S.
Formerly known as British Honduras, Belize gained its independence and was renamed in 1981
Water and food are generally safe. Purified water is available at all establishments PE utilizes.
The exchange rate is fixed at $2.00BZ to $1.00US
The US dollar is widely accepted
Taxes: hotel tax of 9%; sales tax of 10% on goods and service.
Getting To Belize
Direct flights to/from the United States:
Charlette to/ from Belize City–Delta
Houston to/from Belize City–Continental Airlines and TACA International Airlines
Dallas to/from Belize City–American Airlines
Miami to/from Belize City–American Airlines
New York to/from Belize City– US Airways
Flights to/from Guatemala: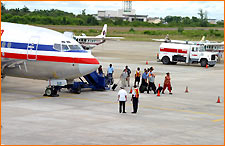 International Airport Belize City to/from Guatemala City– Maya Island Air
Belize City to/from Tikal / Flores — Maya Island Air and Tropic Air
Flights to/from Mexico
Cancun to/from Belize city- Maya Island Air
Packing For Your Belize Trip
Many of these items are available in Belize, but in case you are staying at a jungle lodge far from supplies or a nearby town, it is best to have them on hand.
Personal medication
Basic first-aid
Insect repellant and sun-screen
Sun glasses
Back pack for day trips
Water bottles (as we have 5 gals purified water you can refill from creating less garbage)
Rain poncho
Casual clothing
Hat
Comfortable shoes or hiking boots
Sandals or water shoes
Camera and batteries
Underwater disposable camera
Flashlights
Consult with your doctor for vaccinations (none may be required) malaria etc
Personal binoculars etc.
Optional: field guides
Recommended bird book for Belize: Birds of Belize by Lee Jones